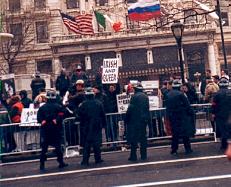 no. it doesn't. it actually rocks for the most part, but as usual, i have my complaints. AHEM...so here goes,for your reading pleasure, i present you with a list of what i can't stand about st patricks day in nyc...
honest-to-god, brogue-talkin', wellies-wearin' paddies who think it's perfectly okay to wear green plastic derbies to mass at th ecathedral. that sort of behaviour is barely tolerable from 15th-generation narrowbacks with shamrock wallpaper in their kitchens, let alone holiday visitors from killarney. i am ashamed to be your countryman.
green fucking beer. can't claim to say this often, but i think it's warranted here...EEEEEWWWWW!!!!
(corollary : green beer leads to green puke. and the streets of ny are overflowing with it on march 17th)
if you're doing the pub crawl thing, this is the one day you'll have to queue up to get INTO the pub....let's not even MENTION the toilets.
THEN if you're the bartender (did it once on st paddys...not even in new york, but i learnt my lesson and will NEVER EVER EVER do it again)...well...we all know how tedious it can get on a regular friday or saturday trying to remember who ordered what, but on st patricks day, people who have never been to a pub before in their lives start showing up, not knowing WHAT to order or HOW to order it, and that makes life just SOOOO much easier....especially when the patrons waiting behind them start getting frustrated and begin throwing furniture...
people saying things like "top o' the mornin' to ye" and "begorrah". face it, guys...no REAL irishman would EVER even contemplate saying such things...even after 10 pints...
in the same vein, the fake brogues. spare me, please. st pat mightn't've been irish, but he sure's hell wasn't SCOTTISH, either. and that's what the overwhelming majority of yanks, when aping a brogue, end up sounding like. members of the clan mccloud.
as much as i like drumming, i hate wearing a kilt, and the annual shitfest of rain, snow, sleet, and hail we end up with every st paddys parade makes kilt-wearing all that much more horrendous. HA! you laugh, but when was the last time YOU got a good draft up yer skirt?
(corollary : aran jumpers stink to high heaven when wet)
it is incredibly depressing to go to an extremely expensive black '47 concert just to see someone get shot.
protesters. feckin'ell man! you're either marching or you're not. staging your own march by waltzing around the sidelines with a sign sure as hell isn't gonna make the aoh love you any more than they do (or hate you any less) all you've accomplished is getting more police barricades put up - and making it harder for those of us actually MARCHING to get on and off the parade route. that's right...some skinny irish pretty boy who shall remain nameless (ha ha) staps off the march a minute to get a coke, tries to get back with the others, and has to practically wrestle the cops to do so. ("i'm not a cross-dresser, officer, it's a kilt. i'm with the kerrymen. WHY THE FUCK ELSE WOULD I HAVE THIS DRUM????") damned frickin' queens anyway...
then you've got yer pols, who bring with them their own parties of protesters. if the aoh really knew what was good for them, they'd ban SENATE CANDIDATES from marching. between the police presence it takes to make surethey don't get shot amd hte eejits following them up 5th with hate signs, they're more frickin' trouble than they're worth. and i don't see why i have to be inconvenienced for their sake. i can't vote and neither can half the other micks they're "campaigning" at.
SOOOO....you think all the irish absolutely LOVE st patricks day and look forward to it all year? well, some do, i'm sure (some also wear green plastic derbies) but you should know by now not to assume such things about ME...
{BACK}