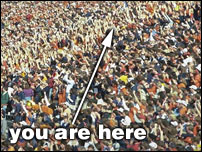 i will not deny it. i have truly come to believe that most other people on this earth were put her to annoy me, and for that reason i resent them greatly. sometimes i want to kill them all, but most of the time, lazy bastard that i am, i simply would like for all of them to just SOD OFF.
they are, for the most part, stupid, shallow creatures, concerned only with their own meaningless little lives. (this isn't to say I MYSELF am not like that, but i also never claimed NOT to detest myself...in theory of course ;) i've been picking on the minutia, picking them to death, for the longest time but now, at least for this one rant, i am going to take the advice of the writer of all those best-selling self-help books who said "don't sweat the small stuff". no, now i'm gonna tear the entire population of the world to pieces. here goes...
*i cannot stress enough how FUCKING IRRITATING it is when people cut into queues and expect that NO-ONE WILL NOTICE. listen, i realise you've places to go and people to see, no doubt FAR more important that anything i might have to do (at least in YOUR twisted mind) but newsflash...THE REST OF US DON'T GIVE A SHIT! you know how you feel about us? the apathy? the total lack of interest? well, that's EXACTLY how we feel about you. so we are not going to "understand completely" when you try to excuse yourself by saying you've got a meeting to get to in 5 minutes. if that's really the case then why the hell didn't you give yourself 5 EXTRA minutes to get yer bloody coffee instead of racing in at the last second and holding EVERYONE up? huh, ASSHOLE? one of these days, i swear to jeebus, you will hear of some guy going bananas in a deli someplace and stabbing someone else to death with a swizzle stick for cutting in front of him. and you know who that violent crazoid will be? give ye 3 guesses...
*america has become a land of the very fat and the very skinny, none of that being good as most of 'em look like they haven't long for this world. it's no secret that i like "it" girls, curvy women with meat on their bones, marilyn-like individuals that are most definitely an endangered species. 90% of the ladies i come across these days are either nothing but bones or meat enough to feed 3 third-world nations. and for some bizarre reason unbeknownst to me, it's always the latter who buy the spandex. yes siree bob, i just said the dreaded "S" word...SPANDEX...and not just spandex, but the most miniscule scraps of spandex you've ever laid eyes on. spandex tank tops, spandex dresses, teeny-tiny denim dazzy dukes laced with fuckin' SPANDEX. it's really kinda amazing how much spandex actually CAN 'spand...but it is NOT a good kind of amazing. it's more amazing in the sense of, "it's AMAZING how that aeroplane just burst into flames in midair like that"...and to see those chicas parade about in their painted-on attire is not unlike a plane crash...it's horrifying, sure, but ADMIT IT...you can't look away! your sick fascination just keeps you staring, as YOUR appetite for the next 3 weeks disappears into thin air...if not for sheer unadulterated disgust, for fear if you start eating you mightn't ever stop and you'll end up looking like THEM.
at any rate, they should be stopped. if i were president, i would establish the oft-discussed fashion police and saddle THEM with ticketing, fining, and/or locking up these walking aesthetic hazards...make it AGAINST THE LAW for any lady to attempt to shove her size 20 keester into a size 8 dress. and likewise sentence any 6' tall, 90 pound skeletal FREAK who finds it necessary to show us all her ribcage by way of a tube top or venture outdoors in a backless dress that forces us to count her vertebrae. JAYSUS! maybe THAT will teach 'em to look in a mirror before stepping out of doors.
*why is it that so many people feel obligated to stare in the windows of every restaurant or café they pass, surveying every single piece of food on everyone's plates before moving on? why do some of them treat outdoor restaurants as tourist attractions, sometimes going so far as to stop directly next to a table and stare down at its occupants until they're forced to bring over the management? what the FUCK, huh? i mean. where the hell do these people come from that they've never seen anyone eat before? cos that's sure what it looks like to me. what are they, space aliens? robots? or are they just fucking STUPID? i'd be inclined to go with that last one myself. they just don't know any better, and they, like most others, actually don't seem to find any fault in their actions till someone threatens to bash their faces in. i'm sure a lot of them honestly believe they put windows in restaurants for the sheer purpose of letting the spectators gaze in wonder at the folks having dinner. what they don't realise is that the windows are ACTUALLY there so they can see the diners flipping them the bird as they meander, gaping like the fresh catch at a sushi bar. stupid asses anyway...
*preps. WHY? okay, i can understand being a BIT prep, but the upper-eastside trust-fund babies with so much time on their hands they devote virtually their ENTIRE LIVES to being prep and it SHOWS...ought to be done away with. i get mildly nauseated watching these cookie-cutter cretins waltz aimlessly about the neighbourhood of my job day-in and day-out wearing the likes of abercrombie & fitch, sucking lattés and being prissy. they are pretentious, rude, and arrogant, and SERVE NO PURPOSE WHATSOEVER...except, of course, taking up valuable space and making pussy drinks of perfectly good espresso that could be going, in its pure form, into ME. it's fucking OBSCENE, that...AND...
*in the same vein, you've got yer general pretentious society jerks. now, some might argue i myself descend from the irish branch of said posers, and while i won't disagree with you there, i WILL say this much...you can pick your friends (and NO, i will not explain/defend my choices in that area right now) but not your relations. and THEY couldn't help how they were brought up. i suppose the ny "elites" couldn't help that either, so why don't i just pick on their ancestors then? (and YES, i DO suppose this all will apply to my ancestors as well)
to put it plainly, someone ought to go back in time, find the uppity little mofo that got the ball rolling on all this pretentious b.s. and beat his ass like a dusty rug. the EEJIT who decided school uniforms with plus-fours and those little forks i still don't know what the fuck you're supposed to use them for should not only EXIST but become integral parts of some people's existences. the MORON who thought up the notion of people from ireland and america and such places speaking with british accents to prove they're class. the DOPE who figured it'd be in better taste if we chucked sessions for balls (the dress-up party things, mind, not the anatomical bits. unfortunately most proponents of the former are sadly lacking in the latter) you know who i mean? thought so...now...to build that time machine...
*those among us who do not say "thankyou" when someone holds a door for them do not deserve to live. i'm really sorry if that sounds harsh, but HONESTLY now folks. it is NOT difficult at ALL to say thanks...or gracias...or grazie...or merci...or WHATEVER. some folks have to realise no matter WHAT it looks like, other people are NOT here for the sole purpose of serving THEM, and if it takes a sharp blow to the head to drive the point home then so be it. the rudeness needs to stop somewhere, so let there be peace on earth and let it begin with me. :)
and NOW, if you'll excuse me, i'm gonna go out and spread some off-season holiday cheer. so take care, and remember...love thy neighbour, and all the rest of that horseshit...
{BACK}